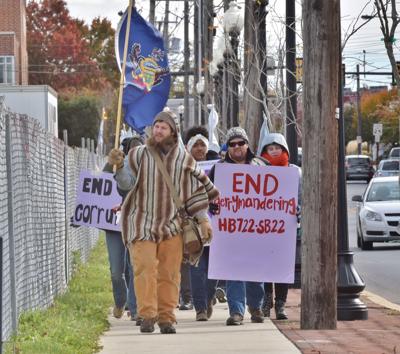 In downtown Lancaster where a Friday morning wind chill made it feel like 25 degrees outside, Elam Zook prepared to walk all the way to Harrisburg to make a few demands of his state legislators.
The Lancaster city resident was among about 20 people in Penn Square hoping to complete the 36-mile, three-day trek to the state Capitol.
Among their goals are the passage of two government reform bills — one to limit gifts for elected officials and one to change the way politicians draw district boundaries.
The statewide group, March on Harrisburg, did a 10-day, 105-mile "political pilgrimage" from Philadelphia to Harrisburg in May. It ended with 28 arrests in the Capitol when they attempted to speak with the committee chairman in charge of bringing up the bills for an initial vote.
"It's the absolute definition of bad government when you have a piece of legislation, a piece of reform that the majority of Pennsylvania wants and almost a majority of the House wants and yet one man that represents only 60,000 people in Pennsylvania can kill that reform. So the irony is not lost on us," said Emmie DiCicco, an organizer with March on Harrisburg.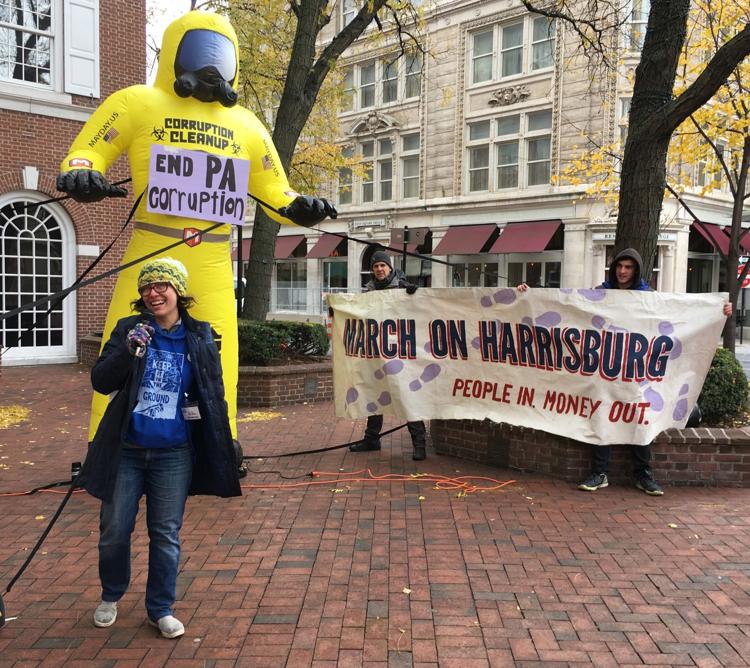 Zook, a self-employed contractor, said he didn't know how bad gerrymandering was until he attended a recent local meeting of activists intent on changing the redistricting process. And it happens in both major parties, he said.
In GOP districts in central Pennsylvania, elected officials are representing their constituents without much threat of losing their safe seats, Zook said.
And in Democratic ones such as Philadelphia's 2nd Congressional District, someone like former U.S. Rep. Chaka Fattah — who is now serving a 10-year prison sentence after being convicted on corruption charges — coasted to re-election term after term because Democrats were packed into his district, Zook said.
"It didn't matter, to quote (President Donald) Trump, if he shot someone in Times Square they would've still voted for him. And that's bad," Zook said. "It's very plain and simple. It's right in front of our face, and it needs to change."
Michael Hodgson, an Akron resident who leads Represent Lancaster, was also among those intending to complete the march. His group is a recently formed chapter of a national anti-corruption organization, and redistricting is among their priorities.
"It really does limit representation," said Hodgson, an occupational therapy assistant. "So if you've got incumbents with almost 90 percent re-election rates, the competition is extremely low."
The group's primary legislative focus, House Bill 722 (also in the Senate as SB 22), would establish an 11-member independent redistricting commission to draw district boundaries instead of the current process that requires elected legislative leaders to do the work.
Complicating the effort is a resistance among legislators to change the process, and a tight deadline.
The legislation must pass in consecutive sessions in Harrisburg before going to a referendum. For the change to take place by the next scheduled redistricting in 2022, the bill must pass by the end of 2018, again by mid-2020 and then also by voter referendum.
DiCicco said members of March on Harrisburg have met with more than 230 members of the 253-member Legislature since May but have been repeatedly turned away by House State Government Committee Chairman Daryl Metcalfe, an opponent of the reforms who would need to take the initial steps in bringing up the bills for a vote.